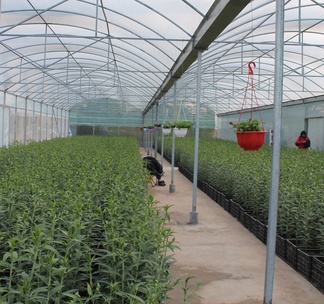 Mr. Yaqoub Micele and Mr. Anis Antoine are "Jordan Gardens" project owners. Mr. Yaqoub works as an accountant while Mr. Anis works as agricultural engineer.
The idea was initiated when both visited Spain to have an idea about the new methods used in strawberry planting.
By the time they got back to Jordan, they started to prepare a feasibility study for the idea and conducted a market survey as well as the amount of produced strawberries in local markets. Afterwards, they leased a land by the airport road .The land was fully prepared; Greenhouses were established besides the irrigation system and all that was through borrowers own equity. Later on, the project needed a generator and electronic appliances for organizing the strawberry irrigation process, where it needed three times of irrigation during the day within a precise and examined amounts. So the borrowers paid a visit to the Housing bank to get a loan valued 50 thousand Dinars to complete project's requirements.
The bank communicated with JLGC within its business loan guarantee programs; the respective committee at JLGC studied all application aspects and visited the project site, after that JLGC agreed to guarantee this loan.
The project was very successful and effective where it created 55 Job opportunities for both genders. The borrowers were grateful to JLGC and it's Staff; they also confirmed that without JLGC assistance and support, the project would not achieve all this success.